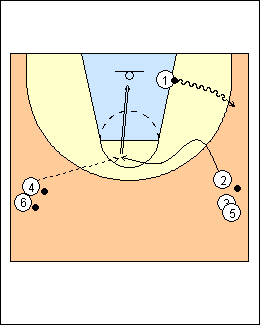 2

2 v-cuts next, getting a pass from 4.

(Variation - balls all start on one side)

(Progressions)

- one-dribble pull-ups, both ways (catch and go, pull thru)
- regular stepbacks
- stepback, show shot, go or cross (counters)
- other stepbacks - extended, scissor, wrap, load-up
- drag pullback - crossover, between, behind
- drag pullback to drop move
- punch drag
- inverted drag
- speed stop exchange
- "hockey stop" (between the legs)
- spin and shoot
- fake spin, shoot
- Nash one-legged fadeaway on the back foot
- Kobe spin on the back foot
- jab series (pass to the inside hand, front pivot or hop) - jab step, shot fake, jab and shot fake (rocker)
- sweep series (pass to the outside hand, reverse pivot)
- Paul Pierce series (reverse pivot on the inside foot)
- jump stop
- permanent pivot foot.

Augie Johnston - on a spin move, take an extra dribble and pound it to carry you in the opposite direction, and take a big step to create space.

See Fundamentals - Skills checklist, Shooting - 5star on the move, Continuous, 5star foul-line flash, Billy Donovan workouts, 5star in the box, FIBA triple threat, Tauer triple threat, Nash 20-minute workout, Procopio wing, Flare-wing, Blasone, also Layups - Kiwi cutting, Footwork - Jay Wright jab-swing series.