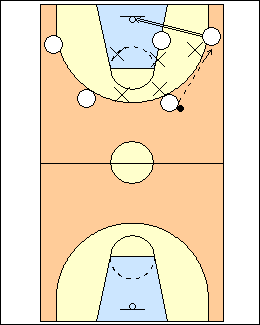 1

Herb Brown

- play up and down until one team scores, defend against a set offence and transition
- start at one basket (halfcourt set or inbounds), go up and back (three plays total), rotate teams, play to 7 baskets
- run out of bounds plays
- play a two-minute game, simulate score (e.g., stealing or fouling if behind)
- run plays after a made or missed free throw
- play 5 on 0 attack on one end to 5 on 5 on the other to 5 on 5 in transition after a stop or score.

Bruce Pearl - play 3-possession (halfcourt, up, back) or 5-possession basketball, a turnover does not count as a possession.

Mads Olesen - 3-possessions fast break - halfcourt attack to a stop or score, break up and back, change around, normal scoring, bonus point for scoring on the break.

Gregg Popovich - 3 ways - team A attacks team B halfcourt, coach calls a set and passes to the point guard, go up and back on changes of possession, you can then teach, start over with team B on offence, play to 10 points with 1 point for scoring and 1 point for a stop. You can run an inbounds play if the ball goes out of bounds under a goal.

Chris Oliver - 5 on 5 three trips - start with a wide pin-down then live, progression - 5 trips.

See Transition - Walberg Oregon State, Scrimmage - Stop and break, Spurs one way, Pressing - Free-throw break, Fast break - Tar Heels 5 on 5 (start with rebounding, go up and back until a stoppage in play).

Ian MacKinnon - 5 on 0 upcourt (e.g., press offence), back against a set defence (e.g., 2-3 zone), switch teams on a stop or score, repeat.

goxavier.com - 4 on 0 motion upcourt (flarescreen and post touch before a shot), 4 on 4 coming back [could be three teams], work on set plays and inbounds plays as well, also 5 on 0 motion into 5 on 5.

Variation - 5 on 0 back to 5 on 4 or 5 on 3, see Fast break - Tennessee 5-man break on 3, DeMatha Bingo recognition.

Basketball PEI - No hands/hell - 5 on 5 halfcourt, the defensive team breaks out 5 on 0 on a stop then comes back 5 on 5. Defenders must have their hands behind their back for the first 14 seconds of each possession (with a 24 second shot clock), optionally also with no talking for 14 seconds.

Chris Oliver - 5 on 5 outlet to coach - halfcourt attack, on a stop or score outlet to coach, transition to the other basket, get organized, coach passes to the point guard in the frontcourt, call multiple sets. Option – keep the ball if you score (make-it take-it), but go to the other end no matter what. It's all halfcourt reps but they keep going up and down.