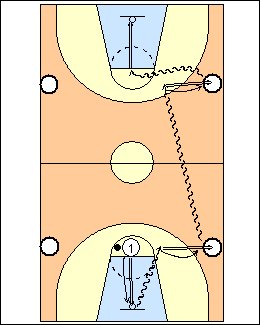 1

More 5-Star Basketball Drills
Two players start at each basket (with balls), each player has to make a shot from behind the foul line then dribble to the next basket and shoot (on a miss, rebound, dribble back behind the foul line and shoot again). How many baskets can each player make in 1 or 2 minutes? Repeat in the other direction.

(Options)

- all players start from the centre circle
- play until one player has made 6 baskets and dribbled back to centre
- dribble with one hand only.