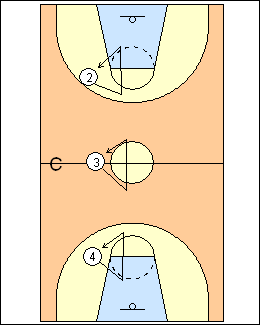 2

Immediately continue with 2 retreat steps, a swing step, 3 slide steps to the right, and 2 advance steps to finish as they started.

Repeat the sequence 3 times.
Taylor Allan - triangle drill - shuffle elbow to elbow, open pivot, shuffle under the rim, close-out shuffle to the start, repeat for 3 triangles in each direction, do 3 sets (with 10 free throws between each set).