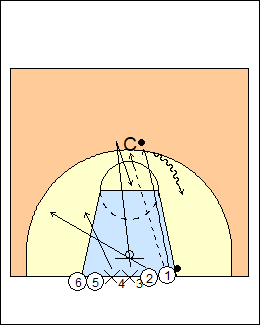 3
b) 2 on 2 from the baseline

Neither defender dribbles out.

1 and 2 are on offence, 3 and 4 on defence, 1 passes to coach, follows to grab the ball, 3 or 4 touches coach's other hand, it's live, attackers can use the flashlight.

Play to a stop or score, rotate defence to offence, 3 or 4 will pass to coach and follow to grab the ball, 5 and 6 are the next defenders, one must touch coach's other hand, 1 and 2 go off.
Mike MacKay - 3 on 3, two teams, make-it take-it, the team on offence passes to coach, any kick-out pass must be outside the 3. Can start with a double gap away from coach.
See Defending -
DeMatha wildcat
.